Specifications
| | |
| --- | --- |
| Retail price(Japan) | 600 JPY (without tax) |
| Shelf life | 1 year after production |
| Storage temparature | Dry |
| JAN code | 4941773212381 |
| Place of origin (Pref.) | Oita |
| Ratio of originated in Japan (WT) | 100% |
| Allergen info | Gulten, Fish, Soya |
| Ingredients & Additives | Bonito flakes, whole-bean soy sauce, plant sauce, fish sauce, sugar, yeast extractor, alcohol |
| Size of a piece | H 167mm x W 46mm x L 46mm |
| Weight of a piece | 363g |
| Size of an order unit | H 197mm x W 306mm x L 208mm |
| Weight of an order unit | 9.1kg |
| Preferred Buyer type | High-class restaurants, Food importers, Distributors |
| Target customer | Professional chefs, Owners of High-class restaurants (Japanese fine dining, Sushi dining) |
| Suitable occasion | Japanese dish |
| Other information | Preferred trading style: Via trading company/wholesaler |
| Target country | (1)United States, (2)France, (3)China, (4)Singapore |
A blend of four sauces fermented into a Dashi (stock) soy sauce
Four sauces originated in Japan's Heian period over 1000 years ago:
- a grain sauce made from grains
- a fish sauce made from fish
- a plant sauce made with fruits, leaves, and seaweed
- a meat sauce made from meat

However, in the 18th century, the meat sauce and the plant sauce ceased to be produced.
Now, we have revived these four sauces and fermented them to bring out even richer flavor in our "Four-sauce Kuro Dashi". day in our Shitake Dashi Sauce.
An attention to detail for production and selection of ingredients in the pursuit of ideal sauce
"Four-sauce Kuro Dashi" is made entirely from fermented products apart from seasoning sugar and salt.
- the Ayu fish in the fish sauce
- the Shitake mushrooms in the plant sauce are local produce from Ohita
- the chickens used for the meat sauce
- the soybeans and wheat used in the soy sauce (grain sauce)
All of the ingredients are grown in Japan.

No solid pieces remain in our sauce;
we put in the extra effort to bring you a pure liquid product.
We avoided using heating in the manufacturing process which would bread down the ingredients and cause the formation of solids in the sauce.
The distinct flavors of sauces have been recognized by Michelin three-star restaurants
Generally-speaking, fish sauce and meat sauce have distinctive aromas which only match certain kinds of cooking.
However, "Four-sauce Kuro Dashi" uses fish sauce and meat sauce which have no additives and are made using a proprietary preparation process.
This eliminates unpleasant, strong aromas and makes the sauce suitable for any type of cooking.
This sauce can be used for the preparation of a wide variety of dishes, including stews, stir-frys, sashimi, cold tofu, noodle sauce, sushi, grilled fish, and grilled mushrooms.
Company profile
We started the business in 1899 and established a company first at Hita-city.
We emphasize tradition and keep making tasty soy sauce.
And we'd like to make a new product and also expand a sale in a new market.
We have developed "Ayu fish sauce" which matches this way of thinking.
The taste and quality of this product is admitted by a chef of all over the world.
| | |
| --- | --- |
| Company name | MARUHARA & Co. |
| Type of organization | Manufacturer |
| Business description | Manufacture and sale of soy sauce, miso, fish sauce, koji and soda. |
| Title of representative | President   Mr. Masayuki Jirouzaemon HARA |
| Company address | 5-4 Nakahon-machi, Hita-city, Oita, 877-0047 |
| Factory address | 5-4 Nakahon-machi, Hita-city, Oita, 877-0047 |
| Date of establishment | 1899 |
| Number of employees | 21~50 or less |
| Company homepage | http://www.soysauce.co.jp |
| TEL | +(81) 973-23-4145 |
| FAX | +(81) 973-23-8859 |
| Business partners | |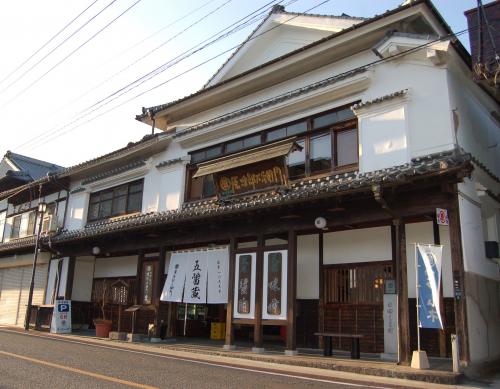 Ayu Fish Sauce is used in Michelin three star restaurants in NY, Paris

In 2016, Our facility was certified according to ISO22000:2005, which combines the principles of Hazard Analysis and Critical Point (HACCP).