Specifications
| | |
| --- | --- |
| Retail price(Japan) | 1620 JPY (without tax) |
| Shelf life | 1 year |
| Storage temparature | Dry |
| Place of origin (Pref.) | Aichi |
| Ingredients & Additives | rose petals |
| Preferred Buyer type | Department stores, Hotels, Patisseries, and Distributors for high-end food item |
| Target customer | Professional chefs, Patissiers, and cooking experts |
| Suitable occasion | For bread dough, sponge cake, whipped cream, fruit sauce, etc. |
| Other information | Ideal food materials for preserve or other patisserie products. |
| Target country | (1)France, (2)Germany, (3)Singapore, (4)United States, (5)Malaysia |
About Vaguelette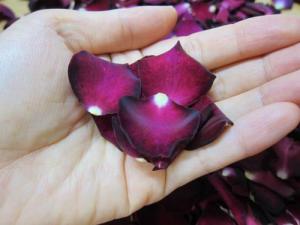 Vaguelette is the Japanese original cultivar that the female rose breeder originated.
Characterized by its graceful wine-magenta-color petals in velvety appearance.
And a rich old rose fragrance that makes you feel sweet and sour fruit.

Usually the color and aroma of rose petals is easily gone by adding heat.
Through many trials we finally found only Vaguelette was able to keep its distinctive color and fragrance the most among more than 180 kinds of roses.
We think it is a result through all kinds of strokes of luck.
No additives. Natural aroma and color only.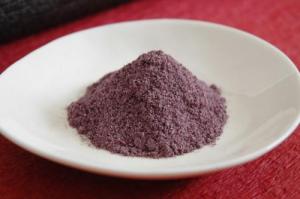 Made of only rose petals.
No artificial flavor, no artificial coloring.
You can enjoy the fresh aroma and the graceful color of Vaguelette.
Only using insect pest control agent derived from natural food.
What is the difference between CDM process and Freeze-dry?
Freeze-dried powder is made by freezing fresh rose petals and removing the water vapor of the ice with a vacuum pump.
A little bit of moisture can keep a more fresh aroma in Freeze-dry than in the CDM process.
In the CDM (Centrifugal Force Dryer Add Mill), its graceful color can be left as compared with the Freeze-dry because it is dried and ground to a powder instantaneously.

< Different types for different focus >
- Focus on Aroma: Please choose Freeze-dry powder.
- Focus on Color: Please choose CDM powder.
Company profile
Our company was founded by nine rose farmers in Nishio city and Hekinan City, Aichi Prefecture.
The symbol flower of Nishio city is rose and we are growing the roses in the city. We have been growing only cut rose flowers so far, but recently we started making a rose jam.
| | |
| --- | --- |
| Company name | Rainbow Inc. |
| Type of organization | Manufacturer |
| Business description | Flower cultivation, production, sales, food process. |
| Title of representative | Representative   Mr. Masaharu TEJIMA |
| Company address | Higashi-tutumi 132, Nishio-shi, Hosoike-cho, Aichi, 445-0047 |
| Date of establishment | November 2002 |
| Number of employees | 6~20 or less |
| Company homepage | https://hosoikerose.jimdo.com/ |
| TEL | +(81) 0563-53-0771 |
| FAX | +(81) 0563-65-2350 |
| Business partners | |
No use of synthetic fragrances or colorants
We do not use any synthetic fragrances or colorants for you to enjoy the graceful colors and fresh fragrance of our roses.

Edible rose petals
We pick rose petals every morning, process them, and ship products at the same day.
With careful hand work, the petals are kept moist and soft and thick.
It can be served in a fresh state, due to the minimum pesticide cultivation.

Excellent ingredient to preserve easily
You can enjoy its freshness if keeping it at low temperature.
It is easily used for sweets, confectioneries, and cooking sauces.