Specifications
| | |
| --- | --- |
| Retail price(Japan) | 300 JPY (without tax) |
| Shelf life | 540 days after production |
| Storage temparature | Dry |
| JAN code | 4965779115101 |
| Place of origin (Pref.) | Wakayama |
| Ratio of originated in Japan (WT) | 90% |
| Ingredients & Additives | UME Vinegar, maple syrup, fructose dextrose sugar, barley black vinegar, plum extract, etc. |
| Supply period | all year |
| Restriction on sales | n/a |
| Size of a piece | W5.7cm x D5.7cm x H20.5cm |
| Weight of a piece | 480g |
| Size of an order unit | W35.2cm x D23.5cm x H21.3cm |
| Weight of an order unit | 12Kg |
| Preferred Buyer type | Distributors, Retailers, Department stores. Food business (Restaurants, etc.) |
| Target customer | Enjoyable for all ages, especially for the health-conscious people |
| Suitable occasion | For refreshment after excercise. Drunk during the meal instead of alcohol. Best served chilled. |
| Other information | Trading style: Via trading company/wholesaler |
| Target country | (1)Hong Kong, (2)Singapore, (3)Thailand, (4)Malaysia, (5)Viet Nam |
Barley-black vinegar
Made from the unpolished barley.
The barley vinegar is said to be good for:
- Normalizing the liver function
- Preventing the cardiovascular disease
Message to Professional Buyers
We can change or coordinate the content or package of our products depending on the preference of your customers and markets.
Your professional opinions would be highly appreciated.
Ingredients & Additives
Ume vinegar, honey, fructose dextrose sugar, barley black vinegar, apple juice, plum extract/vitamin C, flavoring
Company profile
Manufacture and sale of plum processed products.
We are aiming to create food based on health promotion.
For our customer to taste it without any worry, we are working on organic cultivation by only organic fertilizers such as green manure and farmyard compost, and reliable products that can be identified by their growers.
| | |
| --- | --- |
| Company name | Maruso Co., Ltd. |
| Type of organization | Manufacturer |
| Business description | Manufacture and sale of plum processed products. |
| Title of representative | President   Mr. Kunihiro SHIBA |
| Company address | 14-8 Furuo, Tanabe-shi, Wakayama, 646-0059 |
| Factory address | 24-5 Inari-cho, Tanabe-shi, Wakayama, 646-0051 |
| Date of establishment | 1965.1 |
| Number of employees | 21~50 or less |
| Company homepage | http://www.genki-maruso.jp/ |
| TEL | +(81) 739-22-1155 |
| FAX | +(81) 739-22-5018 |
| Business partners | |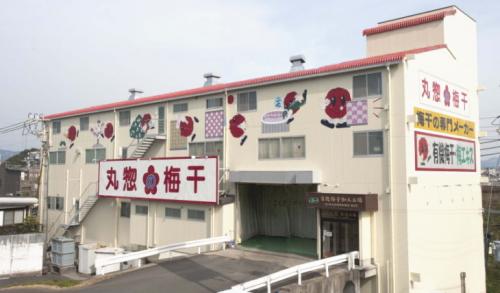 ISO9001: We introduced a quality management system and obtained the certification for the first time in the industry.

Organic certification: We were certified according to JAS standards for Organic agricultural products and Organic processed
foods, at the same time as the revision of the JAS law.

Our pursuit for safety of food: We are pursuing the safety of Ume by purchasing them after checking the cultivation history of
the farmers, and confirming whether it met the JAS cultivation standards.